uttarakhandnews1.blogspot.in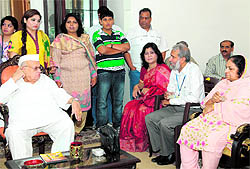 A delegation of homoeopathic doctors from Pakistan with Uttarakhand Governor Aziz Qureshi at Raj Bhawan in Dehradun on Tuesday.
Dehradun, August 28
Governor Aziz Qureshi today met a delegation of doctors from Pakistan at Raj Bhawan here.
He said both the countries ought to demolish the wall of differences and jointly take up battle against poverty, unemployment, illiteracy and diseases for the peace and prosperity of both the countries.
Qureshi welcomed the delegation of more than 50 doctors and said only doctors, poets, writers and artists could now bridge the gap of hatred through love and brotherhood. He said both the countries should try to come closer through trade, industry and religious tourism and utilise the money spent on weapons in curtailing poverty and unemployment. This would end the era of bloodshed and lead the countries to the new horizon of benevolence, peace and prosperity, said Qureshi.
The homeopathic specialists from Pakistan participated in two-day Asian Homoeopathic Medical League (Indian Chapter) Conference in Mussoorie along with doctors of other Asian countries.
The conference was inaugurated by the Governor. He had then invited the participants to Raj Bhawan. Qureshi also presented mementoes to the visitors. Much impressed by the hospitality of the state, the delegation assured the Governor of taking his message to their country.