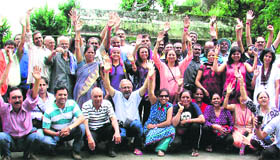 Members of the ninth batch of the Kailash Mansarowar Yatra after their return from Tibet in Pithoragarh.
Pithoragarh, August 14
Residents of Jauljibi stopped members of the 13th batch of the Kailash Mansarowar Yatra on the Dharchula-Pithoragarh highway for two hours today in protest against the lack of basic facilities in the town. Pilgrims cross the town to reach the base camp at Dharchula.
"We stopped the pilgrims in protest against our long-pending demands of providing a mobile tower, a cooking gas godown and a primary health centre at Jauljibi, which is situated near the Indo-Nepal border," said Lila Bangyal, one of the protesters.
According to the Dharchula administration, the protesters allowed the pilgrims to go only after SDM Pramod Kumar reached the spot and gave them an assurance that he would take up their issues with the higher authorities.
The SDM further said the protesters had given them an assurance that they would not stop other batches of the Kailash Mansarowar pilgrimage. However, they said if their demands were not met within a month, they would launch an indefinite fast on the Dharchula-Pithoragarh highway, the SDM added.
Meanwhile, the ninth batch of the Mansarowar pilgrims reached New Delhi from Almora today. On the other hand, 41 members of the 12th batch reached Nabhidhank after undergoing medical tests at Gunji on Monday. According to sources, the 11 batch of pilgrims has reached Derapuk in Tibet while the 10th batch has reached Taklakot.