uttarakhandnews1.blogspot.in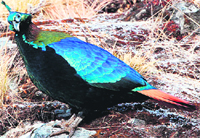 Himalayan Monal (Lopophorous impejanus), the state bird, could soon be on the list of endangered species.
Avian experts and forest scientists are of the view that special steps need to be taken to protect the bird from getting extinct.
According to the last census conducted by the Forest Department on birds, the population of Monal is on the decline in the Himalayan region.
The number of Monals in the state stands at 900, which does not present a good picture. Out of 31 forest divisions, where a bird count was conducted, no Monal was found in 17 of them. Maximum number of Monals are found in the Kedarnath forest division in Gopeshwar where the population is estimated at 360. Even though the forest officials admit that the Monal population was on a decline, they are yet to be sure of its exact number. Ranger Dheeraj Singh Rawat, Jakholi, Rudraprayag, said it was difficult to count birds as they can traverse places in no time.
Apart from Uttaranchal, Monals are mostly found in Himachal Pradesh, Jammu and Kashmir, Sikkim and Arunachal Pradesh and in Bhutan, Pakistan, Nepal, and Tibet. There have also been a few instances where the bird was seen in Myanmar. In Uttarakhand, the pheasant is found on heights varying from 2,000-5,000 m. They exhibit clear and fluctuating altitude migration moving down as low as 6,500 ft in winter and up to 16,000 feet in the summer.
These pheasants exhibit great tolerance to snow. They can usually be seen in pairs during the breeding season, which is from April to August. They often involve in communal roosting.
Though Monal has not been declared endangered, , bird of it's close resemblance Chinese Monal has already been put on the list of threatened birds due to poaching and other anthropogenic factors.
It is to be noted that male Monals were hunted in large numbers for its crest feathers until it was legally banned. Experts attribute various reasons for the diminishing number of the pheasant. Forest scientist Dr Ritesh Joshi said, "Forest fire is the prime reason behind the declining population of Monals in the state apart from illegal killings in the high altitude areas, where it is easy to get away with the crime."The state government and Forest Department should take immediate steps to conserve the bird as apart from being the state bird, it is a beautiful avian species.