uttarakhandnews1.blogspot.in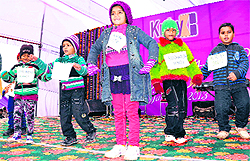 Children of employees perform a cultural programme as part of Family Day at Kirby Steels at SIDCUL in Haridwar on Sunday. Tribune photo: Rameshwar Gaur
In view of generating bonhomie between officers and workers, apart from giving the employees a break, a function titled "Family Day" was organised at Kirby in Integrated Industrial Estate, SIDCUL, here today .
Employees shared a dais with officers in which their queries, problems and working conditions were discussed.
Families of the employees were also invited for the day to generate bonhomie and mutual understanding among the officers and the employees.
Sudhir Mehta, general manager, Kirby, anchored the whole function knitting various events like poem recitation, musicial, dance, kids questionnaire, folk and other fun activities with élan.
Earlier inaugurating the function proceedings, director, HR of MNC Alghanim industries, KS Shyam, said in the coming years, Haridwar would be a major industrial hub and if government provided easier access like a single open window for industries and availability of improved infrastructure facilities, then it would leave other industrial cities behind that had been set up in the recent past.
Officials D Raju among others were also present on the occasion apart from 1,000 employees and their families.