uttarakhandnews1.blogspot.in.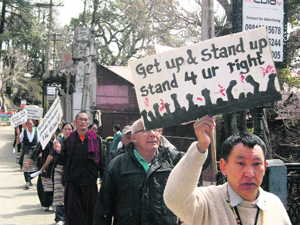 Members of the Tibetan community raise slogans during a protest march in Mussoorie on Sunday.
Members of the Tibetan community gathered at Library Chowk and took out a march to mark the Tibetan National Uprising Day, also being celebrated as Tibetan Martyrs' Day here today.
The community members, under the aegis of the Regional Tibetan Association, marched from Library Bazaar to Picture Palace and back shouting slogans and carrying placards in protest of the Chinese repression in Tibet.
The community members also held prayers and remembered the sacrifices of their brethrens inside and outside Tibet.
Coordinator of the march Sonam Topgyal said the peace march was being organised to bring the Tibetan community under one roof in the fight against the forceful Chinese occupation in Tibet.
He further said since February 8, 2009, more than 107 Tibetans have self-immolated themselves as a mark of protest against the oppressive Chinese regime and this march was to remember their sacrifices and pay homage to such souls who were demanding the return of The Dalai Lama and freedom for Tibet.
Topgyal condemned the policy of oppression followed by China for the past several decades that had led to death of thousands of Tibetans in mainland.
The community members later gathered at the Library chowk and read out their demands and appealed to the international community and India to support their cause so that peace is maintained in the region.
The main demands of the protesters were to send a peace mission to Tibet to assess the atrocities being committed on the community by the Chinese regime and to recognise all the self-immolation acts committed by the Tibetan community members. The members also demanded change in the aggression policy of the Chinese against Tibetans.
The Tibetan Women Association will also carry out a protest march on March 12 in Mussoorie.
It was on March 10, 1959, in Lhasa, Tibet, that Tibetans rose up against the Chinese occupying forces, leading to the death of thousands of Tibetans and the eventual the exile of The Dalai Lama. A signature campaign was also organised in support of Tibet in the town.