uttarakhandnews1.blogspot.in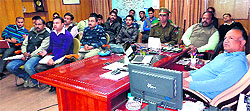 Participants in a workshop organised for Special Operations Group and personnel of the state police surveillance cell in Dehradun on Wednesday. A Tribune photograph
Dehradun, November 20
In a bid to improve the working of Special Operations Group (SOG) and police personnel involved in surveillance work in seven districts of Garhwal Range, a two-day workshop began here today at range headquarters.
On the first day of the workshop, Deputy Inspector General of Police (DIG), Garhwal Range, Amit Sinha, briefed the participants on the rising incidents of cyber crime and how to curb them by using technology.
Manish Kumar, Senior Analyst Digital Intelligence Officer, gave a presentation on mobile forensics and computer forensics and briefed the participants about the techniques of recovering the data from mobiles and computers and how to gather digital evidences in case of a cyber crime.
The ways to preserve electronic evidences from the crime scene and how to use those evidences in the court against the accused were also briefed by the experts.
It was also told that digital intelligence software with the Special Task Force would also help in curbing cyber crimes related to ATM and credit card frauds.
The participants from the Special Operations Group and surveillance cells were informed about the ongoing project of making a database of all the vehicles in the state, which will help in curbing the vehicle theft incidents.
Meanwhile, Senior Superintendent of Police (SSP), STF, Sainthil Abudai Krishnaraj, Additional Superintendent of Police (ASP), STF, Mukesh Kumar Chauhan and many other dignitaries , were also present during the workshop.