uttarakhandnews1.blogspot.in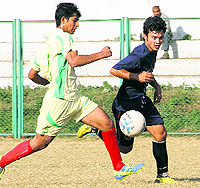 Players in action in a match in the Dehradun District Football Super League played at Pavillion Ground in Dehradun on Wednesday. Tribune photo: Vinod Pundir
Dehradun, November 20
Doon Valley Public School and Sri Guru Ram Rai (SGRR) Bindal entered the semifinals of the ONGC Ram Bahadur Chetri Inter-School Football Tournament played at the BR Ambedkar stadium here today.
In the first quarterfinal match, SGRR Bindal defeated Gautam International School 3-0. SGRR dominated the match from the beginning and the first success came in the 21st minute with a goal by Kartik. Sachin Chetri scored a goal in the 49th minute and gave his team a two-goal advantage. Kartik scored his second goal of the match in the 55th minute and sealed the win for his team.
Doon Valley Public School trounced Kendriya Vidyalaya, FRI, 2-1 in the second quarterfinal match of the day. For Doon Valley, Kapil and Amit scored the goals in 32nd and 55th minute, respectively. Vivek Rana remained the lone goal scorer for KV, FRI. He scored a goal in the 36th minute.
Two semifinal matches would be played tomorrow. Army School will lock horns with Kendriya Vidyalaya, IMA, while SGRR Bindal will take on Doon Valley Public School.