uttarakhandnews1.blogspot.in
Haridwar, November 20
For the first time Uttarakhand will be playing host to a national-level championship of tennis ball.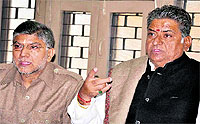 Office-bearers of the Uttarakhand Tennis Ball Cricket Association address mediapersons at the Press Club in Haridwar on Tuesday. Tribune photo: Rameshwar Gaur
The four-day All India National Junior Tennis Ball Cricket Championship will be held at Rodi Belwala ground in Haridwar from November 21 to 24.
Informing about this to media personnel, Uttarakhand Tennis Ball Association president Vijay Saraswat said that this is for the first time that a major national-level championship of tennis ball will be held in the state, ''which will surely make the sport more popular in the hill state.''
Saraswat said that in the men's section 30 teams from different states and central organisations will be taking part, while in girls' section the number stands at 20.
Uttarakhand Cabinet Minister Surendra Rakesh along with state Parliamentary Secretary Furkan Ahmed will be inaugurating the national championship, while Uttarakhand Chief Minister Vijay Bahuguna along with state Revenue Minister Yashpal Arya will be chief guests at the closing ceremony on November 24. Chief Minister Vijay Bahuguna will also hand out the winning trophies to both the segment team winners.
Former ranked minister Sanjay Paliwal said that tennis ball was popular in hill districts of Almora, Nainital, Pithoragarh, Pauri Garhwal and Tehri Garhwal, and recently in Ranikhet the state team was selected for this coveted championship.
As per Gurcharan Singh,Tennis Ball Cricket Association member,this game is like cricket but its speciality is that its injury free game. It is played with lawn tennis ball having a total of 12 players, 9 on the ground and 3 as substitutes off the ground.
"The playing circle is only 50 metres and specially in hilly Uttarakhand this game can be more popular ,owing to less availability of long grounds or stadiums. No need to have helmet and other heavy protective gear. Be it just retired international cricketer and Bharat Ratna awardee Sachin Tendulkar or current Indian Test captain Mahendra Singh Dhoni, many a cricketer play tennis ball cricket to hone their skills," said Gurcharan.